Ami Tomake Bhalobasi Lyrics, sung by Jubin Nautiyal. Music by Jeet Gannguli. Lyrics penned by Raja Chanda. Featuring Dev & Rukmini Maitra.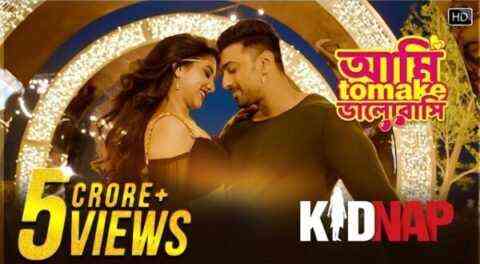 Song Details
Song: Ami Tomake Bhalobasi
Music: Jeet Gannguli
Singer: Jubin Nautiyal
Rap by: Parry G
Lyricist: Raja Chanda
Director: Raja Chanda
Voice Recording: Playhead Studio - Mumbai
Recordist: Rupjit Das
Programming & Mixed by: Aditya Dev
Mastered by: Aditya Dev
Starring: Dev, Rukmini Maitra
Label: Surinder Films
Ami Tomake Bhalobasi Lyrics In Bengali
আজ বলবে হঠাৎ কেউ এসে
হেসে আলতো চোখে চোখে।
তোর জন্য এসেছি আমি
ভালোবাসতে যে তোকে।
আমি তোমাকে ভালোবাসি,
আমি তোমাকে ভালোবাসি।
আসে পাশে কোনো দেশে
চেনা অচেনা ভোরে।
চোখে চোখে দেখি তোকে
অচেনা স্বপ্নের ঘোরে।
তোকে ঘিরে খুব ভিড়ে
রয়েছে রাতের তারা।
আনমনে গোপনে
ভেঙেছে রাতের পাহারা।
মন বলেছে এবার তুই এলে
যাবো আমরা নিরুদ্দেশে।
তোর জন্য যত পাগলামি
চল হাওয়ায় যাই ভেসে।
আমি তোমাকে ভালোবাসি,
আমি তোমাকে ভালোবাসি।
আমি তোমাকে ভালোবাসি Lyrics In English
Aaj bolbe hotath keu eshe
Hese aalto chokhe chokhe
Tor jonno esechi ami
Valobashte je toke
Ami Tomake Bhalobashi
Ami Tomake Bhalobasi
Ashe pashe kono deshe
Chena ochenar bhore
Chokhe chokhe dekhi toke
Ochena shopner ghore
Toke ghire khub bhire
Royeche raater tara
Aanmone gopone
Vengeche raat pahara
Mon bolche ebar tui ele
Jabo amra niruddeshe
Tor jonno joto paglami
Chol haway jai veshe
Ami Tomake Valobashi
Ami Tomake Valobasi
Music Video Of Ami Tomake Bhalobasi Song
Hope You Liked the Post, If You Found Any Mistake in Lyrics kindly
Submit
Us With the Correct Lyrics! Thanks for visiting us!